Timo Vihma (Research Professor):

Research professor in FMI. Participated in the deployments of the 10-m weather mast and FMI sodar. In 2016 got the idea that Hailuoto is the place for ISOBAR campaigns.
Irene Suomi (Post doc reseracher):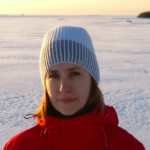 Post doc researcher at FMI. Irene has participated in Hailuoto campaign by organizing the 10 m FMI mast structure for the campaign. She also participated in the deployment of FMI sodar, and has assisted in many practical things (e.g. transport and customs for the equipment of the foreign groups) to make the Hailuoto campaign work.